Arling & Cameron
Sound Shopping (Basta)
By: Alex Steininger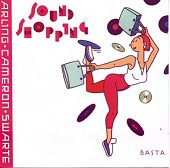 Described as "drum & bass cha cha," the Dutch duo Arling & Cameron's latest, Sound Shopping, is quirky pop music meets electronic wizardry. Sounding like a children's cartoon soundtrack with depth, this album is as musically eccentric as you can get without completely throwing away structure and melody.

A versatile album with enough pop smarts to keep it going, and enough weird ideas to shake things up tremendously, Arling & Cameron's Sound Shopping is a twisting, crazed drive through the outer limits of both pop and electronica. Still, even with the quirkiness, the album still manages to draw you in and keep you coming back for more. I'll give it an A.