Andre Williams
Bait and Switch (Norton Records)
By: Alex Steininger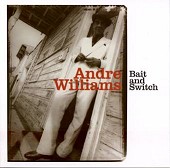 Hot, warm blooded soul-R&B, Andre Williams' Bait and Switch is an all-star bash of raucous grooves including guest performances by Ronnie Spector and the original Dolomite Rudy Ray Moore.

"Detroit Michigan" is a mesh of boisterous funk, soul, and attitude, screaming with plenty of muddy rock and stomp-along beats that will have you hitting the dance floor. "I Ain't Guilty (with Rudy Ray Moore)" is a sing-along 50's blues-bar rocker, lead by the vibrant piano and the ferocious horns. Then there is "Sling It Bang It and Give It Cab Fare Home," an organ-drenched R&B blast, equal parts sex and soul.

"Your Stuff Ain't The Same" sends R&B on a tropical vacation, mixing it up with Caribbean beats. "The Lie" takes a stab at soothing pop-soul perfection. And "Hey Country Girl" finds Andre Williams taking a shot at hard rocking R&B, fast and rowdy as it gets.

A lewd, stylish collection of sexy, smart R&B and dirty soul, Andre Williams delivers the goods, making you crave affection, but settling for sex instead. This is the dirty romance that nobody wants to acknowledge, but we all know is there. I'll give it an A+.