Suck On Sick On The Bus / Punk Police
2xCD-EP (Go Kart Records)
By: Alex Steininger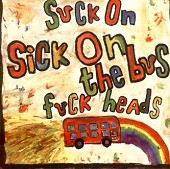 Fast, whip lash punk rock with plenty of bite, the snarl of the lead singer and the sting of the Punk Police catapults the band into blasting punk mayhem, delivering sonic rhythms alongside chunky, three chord punk rock. This isn't your skater friend's punk band. No, this is for the hardcore punk fans, the people that like their music hard, fast, and careless, not giving a shit about melody or anything except playing loud, fast, and offensive.

On the other disc, Suck On Sick On the Bus delivers more melodic, '77 style pogo punk with enough Ramones influence to hook you. Yet, it's got enough Sex Pistols to rip into with some fury and enough street punk cred to just tear up shit and keep the punk rock flowing with spite and hard-hitting chaos. I'll give this a B+.