Me First and the Gimme Gimmes
Blow In The Wind (Fat Wreck Chords)
By: Alex Steininger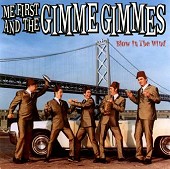 The punk super group that only does covers, Fat Wreck Chords' all-stars Me First and The Gimme Gimmes are back with another collection of classic radio hits on Blow In The Wind, their tribute to songs of the 60's.

Their rendition of Cat Stephens' "Wild World" is one of the best cover songs I've ever heard. And their fast-paced, sweaty, yet saccharine pop-punk versions of "Who Put The Bomp," "My Boyfriend's Back," "Stand By Your Man," and "I Only Want To Be With You" are all classics-to-be in the punk world.

Me First and The Gimme Gimmes deliver on their promise for fun, and lots of it. Blow In The Wind is the punk equivalent of the late-night infomercials advertising "Rockin' To The Oldies", or whatever compilation they're pushing at the time. However, unlike many cover songs, Me First actually re-create the songs and make good enough to stand along side the original. I'll give this an A+.