The String and Return
Invisible City (Sun Sea Sky Productions)
By: Alex Steininger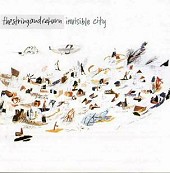 Where's the rock? The past few months I've been listening to a lot of shoe-gazer indie rock and then I started asking myself, "where's the rock?" So, I went and pulled some rock records and have been listening to them for the past few weeks.

What does that have to do with The String and Return? Well, the first time I listened to this album, I liked it. It's slow, thought-out, distant, and subtle. But, as I listen to it now, to do my final evaluation of the album, it's not working for me. I'm sitting here cursing it and wondering where the heck the rock is? It's too slow, too eerie, and too sleepy. Then again, the musicianship is tight, the music is well done, and the sounds are sparkling.

I'm rambling now, but if you like to shoe gaze and put on a record to snuggle up next to, this is your record. If you're looking for the rawk, like I am right now, this isn't it. I'll give it a B.