Modest Mouse
Sad Sappy Sucker (K Records)
By: Alex Steininger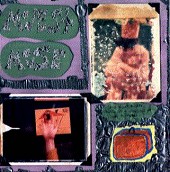 Sad Sappy Sucker was recorded in 1994. However, due to unforeseen delays, Modest Mouse's debut album ended up being This Is A Long Drive For Someone With Nothing To Think About on Up Records in 1996.

Recorded by Calvin Johnson at Dub Narcotic Studio, K Records is finally unveiling the missing Modest Mouse album. A collection of twelve songs recorded by Johnson at Dub Narcotic and nine previously unreleased songs recorded around the same time as the others, Sad Sappy Sucker is an indie rock treasure; a must have for anyone that considers themselves a fan of Pacific Northwest indie rock.

The songs are just what you'd expect. They're slow, fast, hard, soft, angular, jagged, rough, screaming, and beautiful. Front man Isaac Brock's voice is tender and mild, giving the songs a timid feeling, while the music can be everything from comfortable to abrasive, giving the band the ability to jump around from sound to sound without ever losing their vision.

However, as the album progresses, you'll notice the songs get more noise-experimental. Obviously demos, or rather short song snippet ideas (including answering machine and voice samples), there is a reason they've been previously unreleased. But, their inclusion on this album is a testament to the growth and transformation Modest Mouse has gone through, and gives the album that much more of a collector's or historian's edge.

Quite the collection indeed, Sad Sappy Sucker is a valuable documentation of indie rock. It showcases Modest Mouse's humble beginnings and hints at where they've gone and where they're going. I'll give it an A.