The Mekons
New York, On the Road (RIOR USA)
By: Alex Steininger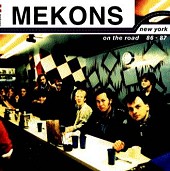 The recording on this album is shit. Let's get that out of the way. You have to crank it up just to hear it. You won't be hearing it clearly though, because the louder you turn up the album, the more airy it gets. Though, if you're a true fan of The Mekons, this is something you'll want to hear.

Loud, drunken, whiskey-driven rock 'n' roll never sounded so good. The pure adrenaline and raw energy that goes into every song is unmatchable. Even when the band slows down to do a 'slow song', they keep it plenty drunken and wild, leaving it open for anything to happen.

The hooks come a'flying on the album, as well. Known for their rambunctious rock, they're still able to cook up one heck of a hook now and then, blending punk rock, pop, and country into one fiery package.

If you're a fan of The Mekons, check out this album. If you're not, go and check out some Mekons studio albums and get accustomed to them. Otherwise, the power of this live album will be lost on you, as the recording is too poor to be an introductory Mekons record. I'll give it a B, only because of the recording, though.