Koufax
It Had To Do With Love (Vagrant/Hereos & Villians)
By: Alex Steininger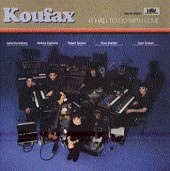 Vagrant off-shoot Heroes & Villains has been doing a great job of diversifying the label, while still making sure plenty of rock stays in its blood. The synth-driven pop of Koufax is a prime example of this. It's not anywhere near the Southern California or emo that plagues Vagrant. Instead, it embraces a colorful array of mod, emo, 60's pop, Beatles, and Beach Boys; it is sunshine shoe-gazer pop with enough going on in the rhythm section to keep you from falling asleep.

Listening to Koufax, a quintet with two keyboard players (playing a combination of pianos, organ, keyboards, and synthesizers), you can't help but feel the vibrant, friendly, atmospheric pop they inject with lush melodies and summertime delight. Each of the ten tracks on this album are powerful, moving, and always enjoyable.

The lyrics are as real as life. The standard topics apply here; living your life day to day, relationships, break ups, and keeping yourself positive despite anything that happens in life. The vocals are oft-dead pan, but only to a degree that makes the music the focus rather than having the vocals steal way from the music. And when the vocals do steal away from the music, it's because the vocals have something positively uplifting or powerful to say. I'll give this album an A.