Creeper Lagoon
Take Back The Universe and Give Me Yesterday (Dreamworks)
By: Alex Steininger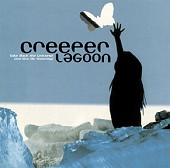 Creeper Lagoon's Dreamworks debut, Take Back The Universe and Give Me Yesterday is a train wreck explosion of clever hooks, shining lyrics, blissful pop, and powerhouse rock. Take Back The Universe and Give Me Yesterday is the type of album most bands strive their whole careers to achieve, but very few do. It's a masterpiece through and through, from the songwriting to the performances.

Take "Chance of a Lifetime" for example. The vocals can be sweet and serene or forceful and in-your-face. The drums crash and wail, while the guitars go flying, ripping into the melody from every angle, snagging you on a hook, and then digging deeper and deeper. The song is pure rock genius, but fans of pop will find plenty to sink their teeth into.

Speaking of wreckage, "Wrecking Ball" is just that. It slams into you with chunky bass, knock out vocals that have no problem softly singing and then jumping into some bursts of rock goodness, and melodic guitars that wail, then turn the volume down, and build into another wall of melodic sweetness.

There is no doubt why Creeper Lagoon has been an industry buzz band for quite some time. They prove over and over again on this album that they're more than capable of stepping up to the plate, going from indie darlings into a commercially viable rock powerhouse.

"Sunfair" is a testament to that. It's a space-oriented pop song that is melodic and rooted in indie rock. However, it is also slick and friendly, perfectly packaged for modern rock radio. As is "Up All Night," a crunchy, punchy power-pop song that buzzes along with a modern rock kick.

"She Loves Me Not" is a beautiful acoustic interlude, showing the listener that the band is more than just simple pop songs. They can write gleaming instrumentals as well. Quite possibly one of the most talented major label bands out there, "Under The Tracks" slows things down. A bouncy, happy-go-lucky pop feel mixed in with some melancholy rock, the band establishes themselves as anything but a one trick pony.

"Cellophane" provides more acoustic guitars amongst the loud pop. A mix of catchy pop hooks built around a softer folk base, Creeper Lagoon manages to take two very different styles and deliver an engaging, memorable song that will get stuck in your head for days.

That's the beauty of his album, though. The band can turn up the volume, drive you wild with charged pop, deliver a folk-y pop number, and then crash into you with a crunchy modern rocker. All while never giving up their momentous pop hooks at every turn. They're one of the cleverest bands out there and their pop sensibilities are matched by few. Take Back The Universe and Give Me Yesterday is truly one of the best albums of the year, if not the decade. I'll give it an A+.