Burning Brides
Fall of the Plastic Empire (File 13)
By: Alex Steininger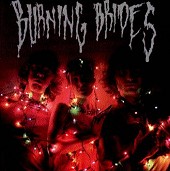 Fast, obnoxious goth-inspired, Iggy Pop-esque rock 'n' roll, Burning Brides lame-ass artwork makes them seem like some wretched, go-nowhere goth band wasting our time. However, Fall of the Plastic Empire is so much more than that. It is a total rock 'n' roll carnage; the way rock should be.

The vocals are clear, enjoyable to sing along too, and enthusiastic. They carry their own melody line, helping to reel you in. All the while, chunky bass is spread over the music while drums cement a permanent rock seal on the music. And let's not forget the raging guitars, buzzing along with enough piss and vinegar to knock you on your ass several times over.

This is un-caged, unpretentious rock 'n' roll meant to be played loud for long periods of time. A definite party in a little compact disc package. I'll give it an A-.