Buckfast Superbee
You Know How The Song Goes (Walking Records)
By: Alex Steininger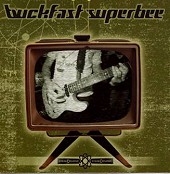 Super-charged, un-caged power-pop with plenty of emo and punk roots, Southern California's Buckfast Superbee deliver momentum and force on their sophomore release, You Know How The Song Goes.

Though you may know how the song goes, Buckfast's energetic take on a generic, cookie-cutter rock sound is re-tooled and re-formatted to comply with their high-flying, bold endeavors. Standard four-piece rock charged with pop, yes, but catchy beyond belief, Buckfast does it so much better than all the other imitators and wanna be's out there.

I'm a fan of pop music. I love my Otis Redding and Al Green, as well as my Maceo Parker, Miles Davis, Chuck Berry, and so much other stuff. But, when it comes down to it, give me The Replacements any day. Sure, they're not The Mats, but Buckfast deliver the power-pop with a post-punk delivery as good as any band trying (but never succeeding) to be great like The Mats. I'll give it a B.