Azure Ray
Azure Ray (Warm Records)
By: Mikel Jollett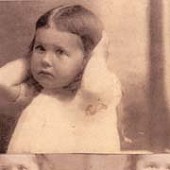 I fell in love in the seventh grade. She was a new girl, a foreigner to the array of drooling freaks and geeks spread around the honors English class of the non-descript California suburb from which I hail. I remember her walking by my desk with a tassel of silver and black bracelets slung loosely around her wrist, dyed-black tangled hair, and the words "The Cure Rules" scribbled furiously on her notebook in black ink. My twelve year old heart just ached. I didn't know it at the time, but this would be my first encounter with that most rare and enigmatic of feminine incarnations: the alterna-girl.

In an age in which we were defined more by what music we listened to than just about anything else, she was a curious balance of uncommon elements: more goth than punk rock, more Siouxie than Dead Milkmen, with not a trace of Motley Crue. An exquisite mixture of grace and solitude, beauty and sadness, she reveled in her own ambivalence towards the world. She held it up before the light, skillfully phrasing her ideas as she thought Morrissey might. She was never "confused", she was "distraught". Not "thinking", but "pensive". She was way cooler than all of us. But in a school caught in adolescent throes of N.W.A. and Liscensed to Ill, I was the only one who knew it.

And though we talked in the hallway about the first song on "Pornography", debating whether or not it was a better guitar than the first song on side two of "Kiss Me, Kiss Me, Kiss Me", I never told her how I felt about her. She was a mystery to me. Someone who embodied all of those moribund ideas that, until then, only existed in the solitary spaces of my tape collection. I pictured her staying up late, lighting candles, dripping wax on her skin as she cried for all that unbearably unbearable stuff that engulfed the world. She moved away after a few months and I was once again left alone with only my copy of "The Queen is Dead" to remind me that there was a fragile and tragic wit outside the halls of my lame-ass junior high.

I've thought about her so much through the years, at times running into similar members of her species speaking in the same precise melancholy tones as she did, reminding me of my entrance point to this world of music then literature then art that comes from the exiled soul of the "outsider" looking in longfully and woefully at the rough-cut corners of an imperfect world.

Such is the feeling I get when I listen to Azure Ray's eponymously-titled debut album from Warm Records. It's clear and pretty and elegant: two women singing subtle, wistful songs whose imagery places them in the spaces between sleep and dreams, nostalgia and loneliness like the soundtrack to the imaginary relationship I never had with my idealized first alterna-love. I'm not sure this is what Orenda Fink and Maria Taylor (Atlanta-based indie poppers of Little Red Rocket and Bright Eyes semi-fame) intend, but they are nonetheless talented singers with soft, lovely voices singing distinctive songs like lullabies that transfix with subtle loops and occasional beats under acoustic guitars and elegant instrumentation.

"Sleep" the opening track on the album begins with a series of repeated notes draping lovingly over one another giving way to the high, breathy words, "fill these spaces up with days/ in my room, you can go, you can stay/ I can't sleep, I can't speak, to you..." These are sensitive words and sensitives songs. Rage fans need not apply. The melody weaves through soundscapes, posing questions with delicate introspections and metaphors, "all this like a message comes to shift my point of view/ and watching through my own life as it tips the shade of you..." This sort of word play continues until the song falls apart, piece by piece, into a cascade of strings and distant harmonies.

"Another Week's" traditional ballad arc is belied by grainy, ethereal production with distorted voices singing, "he makes me lonely/when he comes around/ I try for years/ to beat this one down," through vocoders and digital delay over destroyed sound and a basic ump-ah piano melody. Like many of the songs on the album, it draws in the listener with distinctive but simple sounds. Nothing on the album is particularly difficult, it's all just so well-placed.

The album waxes and wanes upon these leitmotifs drawing upon somber moods and semi-conscious thoughts. At times it borders on cheesy going a little too far to draw conclusions from its depressed homilies. A few tracks, "4th of July" and "Fever" brazenly imitate Mazzy Starr with lap-steel guitar and despondant melodies, but I guess one could be accused of worse things. Besides, tracks like "Displaced", "Rise" and "Safe and Sound" more than make up for these minor flaws with heartfelt, sincere (I hope) epigrams of devotion sung breathlessly as if whispering these things only to you: the one person in the world who understands.

Azure Ray hypnotizes the listener with these lost loves and personal thoughts nestled in there somewhere among old notebooks, old tapes, and bitter-sweet memories. If I were in seventh grade, I would fall smack in love.

Buy this album.