The Raging Teens
Rock 'N' Roll Party! (Rubric Records)
By: Alex Steininger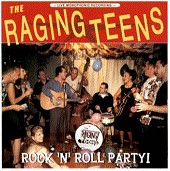 With more in common with Buddy Holly and Elvis Presley than modern punkabilly bands, The Raging Teens deliver classic rockabilly in every sense of the word, keeping things simplistic, danceable, and highly energetic.

I'm a huge fan of modern rockabilly, all tough and ragged, wild and tattered. Here, though, is what it is all about - sweet, sweaty, and danceable. This is 50's sock-hop pop and danceable rock, strutting along with the pretty girl at its side.

Produced by Deke Dickerson, The Raging Teens' Rock 'N' Roll Party! is a true testament to where rock 'n' roll has been and where it is going. This album is retro in every sense of the word, but more modern than half the modern crap that is clogging up our airwaves. Talk about re-inventing the wheel; they've done what has been done early on and added their own spice to it. I'll give this an A.