Q and Not U
No Kill No Beep Beep (Dischord)
By: Alex Steininger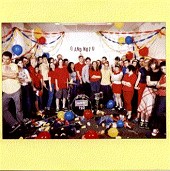 Talk about a weird, if not just plain stupid name for an album, No Kill No Beep Beep. I don't get it, so, of course, I'm here knocking it. For that matter, what the fuck does Q and Not U mean? Oh well, I'm sure the band wasn't thinking, "Should we call our band and album this... I'm not sure if Alex Steininger over at In Music We Trust will dig it." So, far be it for me to push my thoughts on them regarding them naming scheme.

However, I will talk about their music. Fiery, fierce, and bold, No Kill No Beep Beep is the kind of record you expect from Dischord. Alarming, charming, and powerful, the raging guitars and searing rhythm beats collide together to form a combustible rock hybrid that is as much punk as it is rock and as much rock as it is punk. Outside-the-box punk, Q and Not U will have punkers and emo shoe-gazers both jumping in unison at their dangerous, lethal sound. Rock doesn't get more loud or proud than this. I'll give it an A.