Ensign
The Price of Progression (Nitro Records)
By: Alex Steininger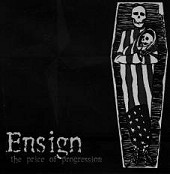 Nitro has become the Fat Wreck Chords of hardcore, in my mind. Where as Fat does the best of pop-punk on the most commercial level, Nitro is one of the most commercial hardcore indie labels out there. That's not knocking them by any means. I'm just saying they're probably the first label I'd think of if you asked me about skater/suburban mall hardcore punkers.

That being said, they have some really great stuff on their label. Unfortunately, Ensign is not the cream of the crop. They are, however, a decent hardcore band that has all the ingredients to be great - hard-hitting drums, razor-sharp guitars, pulsating rhythms, and throaty vocals. And if you're looking for mall-accepted, street-cred-still-intact hardcore, this band has it both. They can be down with the mall kids and the hardcore hardcore fans will still enjoy it. Ah, the beauty of it all. I'll give this mediocre, but still strong hardcore record a B-.