INTERVIEW: The Bangs
Kill Rock Star's Punk-Rock Powerhouse (Kill Rock Stars)
By: Alex Steininger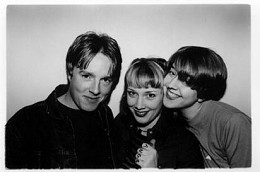 Kill Rock Stars' The Bangs are a power trio, able to deliver blistering punk rhythms along side sing-along pop melodies. Their latest release, Sweet Revenge (Kill Rock Stars) was one of the best records of 2000.

Their bassist, Maggie Vail, just happens to work at Kill Rock Stars, in the publicity department. Though, after working the first Bangs record herself, she'll never do it again.

"It was very confusing and hard to do," Maggie says of the experience. "I couldn't do it, so now we hire out a publicist for Bangs records."

Their story is an interesting one. Her friend Sarah (who fronts The Bangs) decided she wanted her good friend Maggie to be in her new band. However, the spot Maggie wanted, the drums, was filled.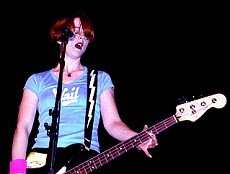 "I had to learn the bass for the band," Maggie says, as if it were no big deal. "So, I learned the bass."
Their first record, Tiger Beat, was a good demonstration of what they could do, though the band was never satisfied with the way it came out.
"Tiger Beat-- Sarah and I had never recorded before. We were unsatisfied with it. There just wasn't enough time in the studio," Maggie recalls of the recording of the album.
Though, she is quick to add that, "We learned a lot, though. Now we're technically better. Jesse [the drummer] works better with us, too."
Not being very happy with Tiger Beat, what is their reaction to their latest album?
"We're very happy with Sweet Revenge," she says with complete honesty. "We wrote the songs in three weeks, booked studio time before we wrote the songs. We were actually writing down lyrics during play back.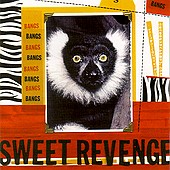 "The nicest thing about Sweet Revenge is that we wrote it together," she continues. "Our first record was basically Sarah. This time around Sarah would bring the songs to practice and we would work them out. It was really fun and I hope we do it again."
What is Maggie most proud of on Sweet Revenge?
"I'm most proud of my singing performance," she says. "I can't stand my singing on Tiger Beat. I've definitely got more comfortable with my singing."
And the next album?
"I'm really nervous about writing the next record. Sarah's been writing a lot of lyrics, though, so I'm sure we'll start working on it soon."