Joseph Arthur
Come To Where I'm From (Virgin Records)
By: Alex Steininger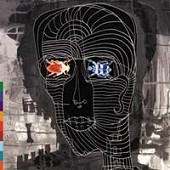 Come To Where I'm From, the latest from Joseph Arthur, is a delight blend of folk and pop, unleashing this astonishing singer-songwriter's talents in a blossoming collage of warm, worn vocals and mellow, almost forgotten drum beats, alongside faint bass and drizzling guitars.

Just for kicks, lets imagine The Beatles, Bob Dylan, and Elliott Smith's sounds were put into a blender, mixed, and a new sound were to arise. The new sound would be Joseph Arthur. Though not as known as the above-mentioned acts, Joseph Arthur possesses the songwriting capabilities and the mind to carry out his visions, giving him a foot into the door that leads the room where The Beatles, Bob Dylan, and the great visionaries of music rest. Arthur meets Smith at the door and they both wait as they work their way closer and closer to the elite room.

Solid songwriting and heartfelt lyrics are what Joseph Arthur is all about. His voice, deep and passionate, as well as melodic and daring, captures the powers that lie in his guitar and head, exerting them onto tape and flushing them out with a variety of instruments, including, but not limited to, piano, bass, percussion, and drums. Once they've been flushed out, a complete masterpiece looks on, awaiting its release into the wild, where it can amaze and floor people. Come To Where I'm From manages to do both, and so much more. With so many albums released in 2000, there are only a few not to miss, and this is one of them. I'll give it an A+.