VARIOUS ARTISTS: Plea for Peace
A Punk Rock Sampler Benefiting PFP (Asian Man Records)
By: Alex Steininger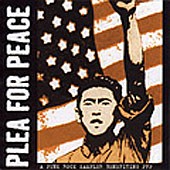 Some of the finest ska and punk bands out there gather to deliver the message of peace, love, and unity. Honor System and Lawrence Arms deliver punk rock fast and full of contempt. Blue Meanies and Link 80 kick ass with some of the hardest ska-punk you're likely to ever hear. MU330, Skankin' Pickle, and Slow Gherkin all deliver quirky ska-pop-punk, as do The Chinkees, and Pushover. Then there is Alkaline Trio and Smoking Popes, two bands that deliver pop-rock with plenty of power (Alkaline Trio's leaning more towards emo). But let's not forget the acoustic offerings of Mike Park and Dan Potthast, musicians known for their crazy ska-punk, but ones that aren't afraid to strip it down to just a voice and a guitar.

A solid compilation that is diverse enough to embrace the concept of diversity and unity, but united enough to keep you listening without going, "Huh? Why does this song follow that one." I'll give it a B-.