The Scrimmage Heroes
Nothing Comes Clean (Off Ramp Records)
By: Alex Steininger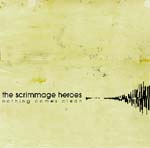 The first time I heard this album I thought, "Oh great, another lackluster pop-punk band serving up the blandest of bland punk". So I put the album down and kept listening to the other Off Ramp Records release, Buck-O-Nine's Hellos and Goodbyes. But then one day I was bored (which is the only reason this album got a second chance) and I put it on. It must have been the mood I was in, because the second time (and subsequent listens) found me enjoying these pop-punk nuggets.

Let's be honest, there is nothing new here. It's your typical Southern California pop-punk. But, they do it well enough to keep you listening. The songs are energetic and catchy enough, and, well, the rhythm section is so tight and bouncy, you'll be jumping up to every note. I'll give it a B-.