Marshmallow Coast
Time Square (Spare Me)
By: Alex Steininger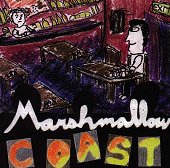 Pop as innocent and carefree as kindergarten, as refreshing and hopeful as your first trip far from home, and as sweet as the morning air, Marshmallow Coast's Andy Gonzales (The Music Tapes, Of Montreal), delivers lo-fi indie-pop with fun on the mind.

Not recommended for fans of tight production, sharp, defined hooks, or hi-fi rock, but fans of indie and lo-fi home recordings will melt to the sounds of Marshmallow Coast. If pop's coming back in style (and I don't mean pop like Brittney Spears), than projects like Marshmallow Coast should find themselves a healthy audience. I'll give this an A-.