The Januaries
The Januaries (Foodchain Records)
By: Alex Steininger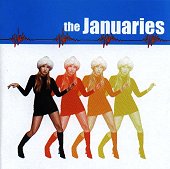 The sexy sounds of 60's lounge pop, The Januaries' frontwoman Debbie Diamond's voice is as erotic and exotic as they come. The majestic pop music will wet your taste buds and then the vocals will make you do a 180. This is styled pop music at its apex. Gorgeous vocals, beautiful backing music, and sparkling hooks, you can't go wrong here.

Unlike other 60's-revisted pop bands, The Januaries bring in modern glamour and wrap it around every pop morsel. The roots are well grounded in the shining, lounge-y sounds of the 60's, but the band is well ahead of its time. I'll give this an A+.