764-Hero
Weekends of Sound (Up Records)
By: Alex Steininger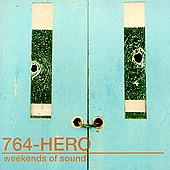 Indie rockers 764-Hero's latest, Weekends of Sound, experiments with sound textures, styles, and variations, delivering a sonic, rhythmic collage of light hearted indie rock, tempting pop, and delicate guitars with some pulsating rock to boot.

The songs pack a depth and quality un-obtained by only a few. The tones are shiny and crisp, but not overly bright or watered down. And the beats are juicy and moist, but subtle and soft enough not to be domineering. Here is an indie rock album with higher aspirations than most. Its slight emo edge gives it a good heart-on-the-sleeve feel, too. I'll give it a B+.