Avail
One Wrench (Fat Wreck Chords)
By: Alex Steininger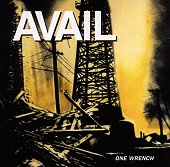 Fast, ferocious punk with a hardcore edge, Avail delivers the momentum on their latest, One Wrench. Political, boisterous, and not afraid to get in your face and speak their minds, Avail are punks with a voice who won't shut up until you listen to them.

Good thing they make music you actually want to listen to. Though, the songs may sound very similar track in and track out, they maintain their own distinct flavor via the lyrics and the voice that projects the lyrics. The same guitars, drums, and bass may fill the air, but you'll know when a different song is on. Here is some decent pop-punk-hardcore you'll dig if you dig Fat Wreck Chords. I'll give it a C+.