Crease
Vindication (Roadrunner Records)
By: Alex Steininger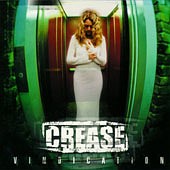 Crease first struck me as a rap-metal or pussy hard rock band that was all-too-unoriginal and a band that lacked creativity. However, with a cover of the pop masterpiece "Jenny (867-5309)," and sharp, guitar-driven, roaring pop songs like "Just For A Second" and "I'm The One," the band shines with their ability to fit in with both the power-pop crowds and the Metallica and Motley Crue crowds.

Think of them as a bunch of metal heads that were raised on Motley Crue, Poison, Metallica, Quiet Riot, and everything from 70's metal to 80's hair bands. But, somewhere in there they got a hold of some new wave records or turned on the radio and got an ample amount of cheesy pop in their diets. The outcome is a disastrous mix of bad 80's hair rock, pussy metal, and pop music that nobody admits to liking (but every time they hear the songs on the radio they can't get the songs out of their heads for weeks). And, magically, somehow, all of these influences that nobody in their right mind would admit to being enjoying, hit each other at the right angle and created a catchy, powerful blend of pop and metal.

Let's hear it for one of the best releases Roadrunner has released in a long time. Sure, this is no Beatles or anything that is going to turn heads or become the album musical geniuses of the future listen to and quote like the bible. But, it's a good rock record with plenty of pop and metal to boost it into your head, where it will rest for days on end. I'll give it a B.