Steve Earle
Transcendental Blues (E2/Artemis Records)
By: Alex Steininger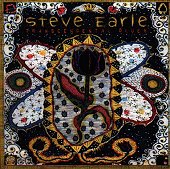 Steve Earle's latest, Transcendental Blues is a trip down through the American heartland, where you'll find people moving to rock 'n' roll, rock-a-billy, country, soul, and the blues, to name a few. Earle, inspired by them all, transforms the sounds of America into one blistering sound that is rocking, rambling, and full of soul.

His lyrics are sharp, witty, and intelligent, and there isn't a note that you won't feel on this album. The country bleeds through the rock and the rock comes out of every pore on the album. "The Boy Who Never Cried" is an Earle ballad that will have you listening attentively. "Steve's Last Ramble" will shake you up and make you move. While "When I Fall" will have you cuddled around your beer following the story. And "All My Life" moving your body to the thumping rhythms and soulful vocals that tear through the guitar riffs that further entice.

Here is the perfect combination of rock 'n' roll and country without being an "alt-country" record. This is American music, alive and well, living and breathing with every listen. Earle is a true genius and his voice will surely be remembered fifty and a hundred years down the line when people look back and think about notable singer/songwriters of the past. I'll give it an A+.