VARIOUS ARTISTS
Aware 7 - The Compilation (Aware Records)
By: Alex Steininger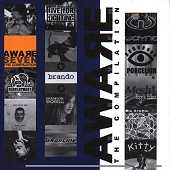 Aware Records has a track record, via its AWARE compilations, of finding the hottest talent throughout the US. Matchbox 20 and Train are two prime examples of bands that were emerging and through hard work, and a spot on the AWARE compilation, found themselves in the national spotlight.

This time around, bands like Porcelain, a female fronted folk-rock combo, former Geffen Recording Artist Gus, Kitty (a female singer-songwriter), and Shannon Worrell (another female singer-songwriter) stand out as the emerging talents most likely to make it in the next few years.

Gusty, gutsy, and full of zest, the compilation is filled out with seventeen tracks of folk-rock that delivers the punches, while keeping things breezy and laid-back enough for you to groove and relax with. I'll give this compilation a B.