Rudy Ray Moore
Hully Gully Fever (Norton Records)
By: Alex Steininger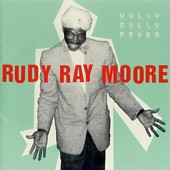 A legend who embodies every sense of the word, Rudy Ray Moore has been cited as the key musical influence from some of the most renown rappers of the world, including 2 Live Crew and Snoop Dogg. Moore is also the father of adult party records, and the pioneer of blaxploitation films.

Available for the first time ever, Rudy Ray Moore personally opens the vaults to his private collection of unissued live comedy/music routines and deejay radio spots. Rare recordings from 45's, unissued masters, live recordings, and radio spots help make this massive collection a gem for fans of blues, R&B, and good music in general. Plus, as an added bonus, Rudy Ray Moore tells his story through extensive liner notes and rare photos from his own files and scrapbooks.

Fresh 50's and 60's R&B, Hully Gully Fever contains seventy-six minutes of some of the best R&B you'll ever hear. "I'm Mad With You" is a slow, steamy beefed up blues number that centers around Moore's smoky voice, while "Hurts Me To My Heart" is a dance-filled R&B groove piece that will instantly send you to the dance floor. Other cuts such as "Hully Gully Papa," an R&B ballad, the stomping R&B of "Angles On Earth," and "Baby That's Why I'm Your Fool," a live recording recorded at the Club Night Life in Los Angeles on June 18, 1963, all make this a stand out gem that is sure to please fans and bring in plenty of new ones.

The radio spots and short comedy clips help paint an even more complete picture of the entertaining abilities of Rudy Ray Moore. A rare talent, Moore's voice, songs, and comedy helped shape R&B, hip-hop, and rap as we know it. I'll give this an A+.