SHOW REVIEW: Supergrass
Vancouver BC - May 29, 2000 (Commodore Ballroom)
Review and photos by: Andy Scheffler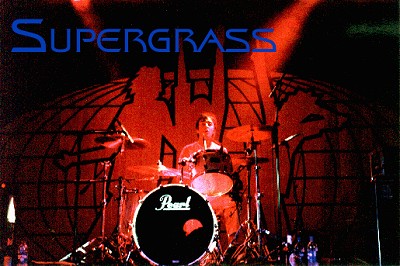 I could not supress my curiosity for this show as I rushed down to the Commodore Ballroom after receiving fairly late notice to cover it. Supergrass is one of those "new bands" to break in North America. You know, one of the groups those snappy Britons have known about and nurtured for years, before someone clever person decides to ship them over here. By now, just about everyone has heard the single "Pumping on Your Stereo," and probably seen the elaborate and just-plain-fun video, featuring the members' heads atop (or flying around the screen somewhere) exaggerated bodies care of Jim Henson's Creature Shop.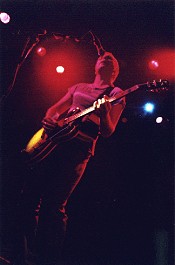 As well, just about everyone's figured out the lyrics are really 'humping on your stereo..." but shhhhhh... we patrons of mass media on this continent are far to sensitive for such suggestive ramblings! Yet strangely, few know of Supergrass' earlier efforts, which stretch back as far as 1994. And I, naively, am one of those who fell so quickly for the popular single, without having really any knowledge to back up my sudden obsession with this band. For the record, I have seen a few other videos...

Either way, I arrived at the venue after the opening band was already offstage, and was not really all that surprised to see the room completely stuffed with both hardened Supergrass fans, and curious newbies like myself. Even the big guns were out to take in the Supergrass experience; the Foo Fighters, who had played in Vancouver the night before, were in attendance. Even now, easily a half hour before the band was to hit the stage, people were vying for prime position at the barricade.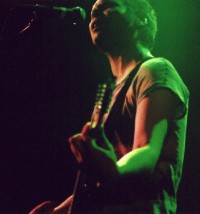 I took my place with a few other photographers and videographers, and prepared to be blown away. A couple of stage lights spring up, backlighting the band members as they saunter out on stage and begin playing. They opened the set with "Movin' On," which is almost a ballad, that picks up here and there. I have to say, first impression is that these guys are tight as a band. No disputing. The music is well-honed, solid, and of course, catchy as hell. Lead vocalist-and-guitarist Gaz Coombes is all over the stage (when he's not bound to the microphone in roaring melody), keeping in touch with the crowd. In the back, perched on a fairly substantial riser, drummer Danny Goffey keeps things interesting with some fancy drumstick handling. Never dropping the beat, the energy seemed to almost originate from him back there and fling out to the other members of the band. All this, and apparently he used to be far more energetic, having been compared to The Who drummer Keith Moon on account of "playing possessed." These days, he says, he can't keep up the energy playing as many live shows as they do. Amazing.
Bassist Mickey Quinn, kept pretty quiet comparatively. He is cited as the "collected" one in the group, and he did in fact spend most of his time no more than three steps away from the stability of his microphone. The only person who may have blended in a bit more was keyboardist Robert Coombes. He isn't an official part of Supergrass; as you may have guessed, he is Gaz's brother, and generally contributes his keyboarding talent to the live show, and is the fourth body you may see in Supergrass videos. During this show, he was tucked away beside the drum riser, with barely a light falling on him the entire time. Behind everyone, the easily-recognizable banner featuring a stylized globe, and the silhouettes of the three primary members.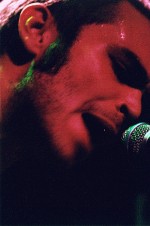 After three tracks, I was shooed gently out of the media pit, and I spent the duration of the show wandering from vantage point to vantage point. They looked good from near and far, from the balcony or the side tables - heck, they even looked good when there was a beam in the way. They are simply encapsulating. Everywhere one turned, one was faced with cheery, singing, dancing people, all having the time of their lives. It was a wonderfully nurturing environment the band created. They mostly played tracks off the new self-titled disc, being the promotional tour for that CD, as well as classics from "I Should Coco" and "In It For The Money." They neatly bisected the set by playing "Pumping..." right in the middle of everything, eliciting a bounty of cheers from the undulating crowd. A surprisingly short set however; even with the encore it was barely an hour and a half. There was no early curfew on the night, so it left a lot of people wondering what the cutoff was for.
Those who waited around for a few minutes got both their answer to that question, and a bit of a reward; the show's afterparty, to be held in a swanky room in the city's historic Gastown. Within half an hour of the show's completion, a converted school bus that could only be described as "outgoing", showed up a block from the club to whisk band members, crew and fans away to the come-one-come-all afterparty. While not having attended it myself, I have first-hand testimony that it was as rambunctious and crowded as the show itself, and went on well into the morning. Those nutty Supergrass kids - they spare no expense though, that's for certain.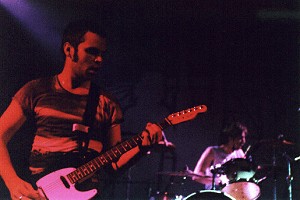 Overall, as far as live shows go, this was a joy to watch. No lumpy song transitions, no stock-still performance, no technical difficulties (*gasp*), and everyone was on-key and in tune the whole time. However, based on the videos have seen, lyrics I have listened through, and interviews I have read, I expected a bit more on the humorous front from these guys. They are notoriously quite the group of cut-ups, but onstage, they seemed quite serious. Friendly undoubtedly, but still pretty focussed on the music. I wouldn't say this took away from the overall show, but it may have been interesting to hear some quirky comments made, or maybe some pink, fuzzy stage props.
For a self-guided tour through the band's Vancouver excursion, drop by the band-run site at www.childrenofthemonkeybasket.com and click on the "Diary" link. Number 63 is a bunch of photos from Vancouver while they were in town for this show.