Tony Babinski
Music from the mtl/ART Project (Foxglove Concern)
By: Alex Steininger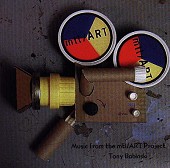 Tony Babinski's Music from the mtl/ART Project is a combination of classical, electronica, folk, and spoken word. Like a bunch of shapes and lines in a painting, the album is hard to dissect; it is very hard to translate. But, at the core lies an art album that doesn't want to be dissected or translated. It just wants to be listened to over and over again as you enjoy it, each time picking up a tiny bit more as you travel down the landscape of sound and vision that the music paints for you.

Walking down the street you hear every day noises - cars, people's feet, voices, wind. This album is a reminder of the beauty in life; the beauty of living and breathing as you enjoy life to its fullest, taking for granted the sounds and sights you take in. It is a reminder of everything nature and man has to offer. I will give it a B.