The Delgados
The Great Eastern (Mantra/Chemikal Underground/Beggars Banquet)
By: Alex Steininger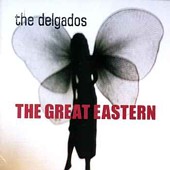 A jaunting pop album that goes from strolling, muscled guitar fuzz to dream-esque, subliminal subtlety, The Delgados' The Great Eastern is a fascinating pop album that feels like being shaken out of a pleasant dream, only to have to awake and face the challenges of day.

The boy-girl vocals, sometimes equals and other times playing the role of back up, lend a helping hand to the gentle, dreamy essence of the album. The male has an easy-going, hand-on-the-shoulder guiding voice, while the female's lead is more the picking-you-off-the-ground helping hand. But both, in their own ways, have an edge that is sharp and clear, adding to the rock element that lurks underneath the murky rock waters.

Bursting upon the scene, sometimes heavy and frantic, and other times soft and sleepy, The Delgados, craft delicate rock songs that are brittle one moment and rock solid the next. The Great Easter is a sold trip through the unknown from start to finish. I will give it an A-.