Systemwide
Systemwide (BSI Records)
By: Alex Steininger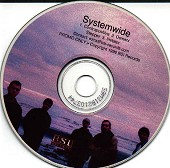 Pot smoking, acid vision, and just overly drug induced dub music; Systemwide delivers rich, smoky dub with an edge. Tantalizing, ferocious, and primed to infect your mind, the sonic depths they explore help you reach the outermost parts of your mind, while the fiery grooves house themselves within your body and ripen you for a good time.

Here is dub music you can sit back and enjoy or get up and shake your body, too. No limits. None whatsoever. Just good, solid dub music that will find you in a dream-induced state after several hours of listening to the same songs over and over again. I'll give it a C.