Starling
Sustainer (Time Bomb Recordings)
By: Alex Steininger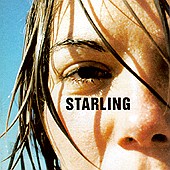 Generic pop-rock that tries to pass itself off as snappy, dazzling power-pop, Canada's Starling offers up crunchy guitar pop with infectious hooks you can't help but enjoy. But, once the music shuts off, you sit there scratching your head, wondering how you can like something so empty and meaningless.

"Superfrayed" and "Louise" are two prime examples of this. Buzz-saw guitars interplay with charming pop to deliver a hook-laden, sharp modern rocker that seems so primed to tear up commercial radio and become the next MTV buzz song. But, once the songs are over, you sit there and ask yourself if you really enjoyed them, of if they were just so damn catchy you couldn't help yourself?

Like the racist joke you know you shouldn't enjoy but it seems funny at the moment, only to disgust you later. Or even the extra portions of food you shouldn't take because you know you it will catch up with you, but you take it anyway, Starling's music satisfies quickly and then leaves you wondering why you liked it in the first place. I'll give it a C-.