One Riot One Ranger
Faces Made For Radio (Fundamental Recording Co.)
By: Gary "Pig" Gold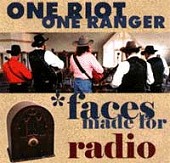 Long standing tall and defiant against lesser claims to this week's Alternate C&W twang-of-the-week (BR5-49 call home!), One Riot One Ranger succeed where others have failed by simply acknowledging then building upon, rather than spitting in the face of, the traditions of the Country genre.

For example, their "River Of Salvation" may nod reverently in the direction of "Turn Your Radio On" and other white spirituals but the playing is fresh, forceful and disarmingly playful as opposed to just boringly reverent. "Yes Man" and "The Devil's Waltz" similarly breath new air over well-worn ground, the latter cunningly crushing Brave Combo at their own game, and throughout this album the instrumental work is that of a well-oiled ensemble as opposed to the hot-dogging one-upmanship which often plagues less mature bluegrass-y ensembles.

But what truly separates 1R1R from the crowd is their vocal ability: with Lead Voice chores roundly shared between four out of five Rangers, their ensemble singing, on "Blues Stay Away From Me" and especially "Cowboy Lullabye", is a true joy to behold and a rare talent which bodes to serve them well down the road. Yes, on stage this is a band not afraid to whip out a Pere Ubu or 13th Floor Elevators (!) song or two, but as on record, the end result is less a mockery than a genuine mastery of, and love for, the music they cherish and play so well.

Tongues refreshingly out of cheek, One Riot One Ranger rightfully sound like they'll be around long after Alternative becomes just Country again.