Matt Tiegler
Gods and Heroes (Water Dog Music)
By: Alex Steininger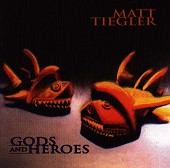 From the opening of "Lines & Circles" to the slight-bounce of "The Lost Art" and the crunch of "Wallowing," Matt Tiegler delivers a juicy slab of tender pop music. Never too forcing or overly cooked, Tiegler lets the jangle-y guitars, his self-assured, relaxed voice, and the supple rhythm section flush out the songs.

Soft hooks gently nudge you, while the easy-going, happy-go-lucky atmosphere Tiegler creates warms you up and makes it easy for you to open your arms up to the songs. Easily chewable and digestible, Tiegler knows his way around a soft pop song.

Perfect for a sunny day or a late night jaunt, Gods and Heroes is the pop album you listened to all through that joyful summer and come fall, just couldn't get it out of your CD player. It will grow and grow on you, earning a place in your heart, your CD player, and thus your life. I'll give it a B.