Frank Bango
Fugitive Girls (Not Lame Recordings)
By: Alex Steininger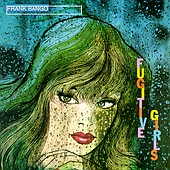 Warm, friendly pop with a rock edge, the sugary sounds of Frank Bango bounce around in your head. From the slightly awkward vocals to the tight, punchy rhythm section, Frank Bango delivers clean, crisp pop that is as catchy as it is clean. Not a spotless surface to be seen, Fugitive Girls gets you with its tender pop sensibilities rather than its striking, distorted guitars that some 'pop' bands pride themselves on.

From the irresistible pop (and title) of "Candy Bar Killers" to the subtle, sit-back-and-wander thoughts of "Blue Sweater," bright guitars, snuggling strings, and gentle melodies, all make this album one that pop fanatics and pop newcomers alike will find their heads spinning for.

Romantic, inviting, friendly, and warm, the sun shines down on all areas that Frank Bango's music touches. Here is pop composition at work. Forget about all the modern rock bands that have no spirit or fire, because this is the real pop of old - new again. I'll give it an A-.