Dora Flood
Lost On Earth (Double Play Records)
By: Alex Steininger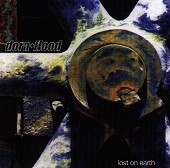 Dark, moody alterna-pop, Dora Flood deliver cloudy guitars and murky rhythms on top of cheery, swimming vocals that encompass your head and float around, forcing you to sing along and become enchanted by the song.

However, enchanting isn't a word that you'll be using to describe the songs. Though they quirky space element strengths their sound, the murky feel of the songs seems too dark for the ripe, bright pop they're delivering underneath the clouds.

If it were a bit lighter and a bit brighter, this would be a pleasant pop album you could play over and over again, smiling and bopping your head, enjoying the music to the last drop. But, with the overshadowed clouds and darker edge, the music is hard to pigeonhole (which might have been their plan), but also harder to grab a hold of and get into. Still, they're a tight pop unit that shows a lot of promise. I'll give it a C+.