Clare Quilty
Strong (Dcide)
By: Alex Steininger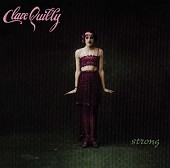 Pop-rock with a twist, this quirky four-piece delivers strong pop hooks mixed in with a rock 'n' roll appetite and some jarring rhythms to shake things up. Sweet female vocals guide you through an enjoyable walk down a sunny street on a warm day, while the bright guitar makes things even lighter and happier.

"Anger Is Beautiful" is as dark as the band gets, adding a sinister grin to their smile-filled pop tunes. "Secret Sharer" makes your hips move with some groove-induced pop bouncy-ness. And "Sleep With You" quickly jars you with powerful guitars that burst right in front of you before the song gets subtle enough to draw you back in to spit you back out.

Then there is "Comfort Me," a track that finds the band heading into a more rock direction, allowing the pop a rest, and the eerie guitar tones to come alive. "Snow White" is all-out power pop that will knock you on the floor with its enticing hooks, guitar-driven engine, and back breaking rhythms.

Clare Quilty is a quartet that can burn you when things get hot with their roaring power-pop, or a band that can make you melt with sweet, glorious pop melodies that are warm and bright, and all-too-tempting. Here is a pop album that you'll surely enjoy. I'll give it a B+.