Berlin
LIVE: Scared and Profane (Time Bomb Recordings)
By: Alex Steininger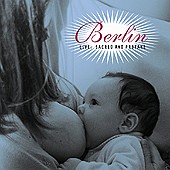 From the new wave rock of "The Metro" to the top forty pop of "Take My Breath Away," and through the sexually driven "Sex (I'm A...)," Berlin keeps you on your toes as they knock off a solid, if not overly-polished, live rock show complete with all the hits.

The downer of this album is tracks 13-15, which were recorded live at a studio, which, to me, takes away the "live" aspect of the album. How many indie bands have recorded their albums nearly, if not completely live in a studio, using little to none over dubs and studio wizardry to capture their live shows? And they don't refer to these songs or releases as "live" recordings. Why should Berlin get that privilege?

Other than that disappointing feature, tracks 1-12 are all recorded live at a venue, with fans cheering and clapping, as the band feeds of their energy and delivers a solid performance. I'll give this a B-.