The (International) Noise Conspiracy
Survival Sickness (Epitaph)
By: Alex Steininger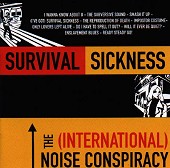 The (International) Noise Conspiracy embrace music. Not just one style of music, but music in general. Their sound is reminiscent of R&B from the 60's mixed in with mid-70's punk and even some soul. These guys know how to rock out, and they're damn good at it, too.

From the sly punk of "I Wanna Know About U," the punk-soul of "Smash It Up," and the R&B of "(I've Got) Survival Sickness" to the shake down of "Impostor Costume," these cats know how to 'smash it up' with influences spanning the gamut. They're not afraid to embrace all the styles they grew up on; the vinyl records they probably spent their youth listening to over and over again through a pair of headphones, as life began and ended track after track.

Nowadays spikes, dyed hair, and fast music passes as punk. But, before 'punk' was punk, there were musicians and bands doing whatever they wanted to - going against the grain - and that was what punk embodied. Noise Conspiracy embody this to the tee, and Survival Sickness is what it's all about. I'll give it an A-.