Land of Thin Dimes
Land of Thin Dimes (Toadophile Records)
By: Alex Steininger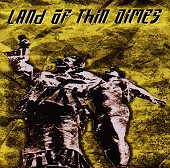 Bad hard rock that is too pussy to really cross over into the hardcore realm, Land of Thin Dimes cranks out loud, think rock music that is neither metal nor hardcore, yet tries to be both at times - often at the same time.

Low energy, no muscle, and running low on fuel, the engine on this band seems to want to burn out at any time, while the members keep chugging on against the machine's will. Bad hardcore-rock at its apex, Land of Thin Dimes just doesn't cut the mustard. I'll give it an F.