INTERVIEW: Red Star Belgrade
Interview with Bill Curry (front man for Red Star Belgrade)
By: Alex Steininger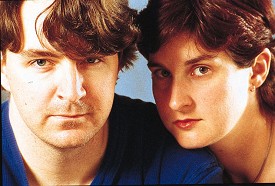 IMWT: How does a band maintain itself for over six years?

Bill: I honestly wish I knew... keeping a band together is probably the most difficult and thankless job on the planet. Over the past six years RSB has seen a procession of about 12 bass players and six guitar players. Since there's such a wide variety of musical styles, it's always difficult to find someone who can cover all the stylistic bases.

I think the biggest factor in a band staying together is success; most people are unlikely to leave a band that provides them with a comfortable living. Unfortunately, we haven't gotten to that point yet. We moved to Chicago in '98, and are still looking for a permanent bass player.

At this point, we have to consider the band a duo. Graham and I we were able to record Telescope with the addition of a few friends who added vocals and pedal steel.

In the past year and a half, we've spent so much time looking for other players that it just hasn't been fun. In the next 12 months, the two of us are going to concentrate on recording and getting two cd's out.

IMWT: What are the differences and similarities that TELESCOPE possesses compared to previous releases? What made you want to expand the instrumentation on TELESCOPE compared to the instrumention used on previous releases?

Bill: Well, I think the first difference is the sound of the new record. I didn't want to make another guitar/bass/drum record because we did that on our first two records, Where The Sun Doesn't Shine, and The Fractured Hymnal. Consequently, there's a lot more sounds on the record (slide, melodica, piano, b-3, mandolin etc).

Secondly, I think I wanted to work on some longer, unconventional songs that tell a story ("After the Revolution"). As a result, the songs ended up being a bit more complex and hopefully more interesting.

Also, in the last year or so, I've begun playing a lot of piano, which lends itself toward a different type of songwriting. So that adds another facet to the record.

The one constant on our three cd's is the mix of songs, incorporating country, alternative rock, rock, folk... which I really don't think anyone else does. I think that makes our records more interesting, but on the down side, we're a difficult band to market.

I just want to make the type of record that I want to listen to. As we've progressed, Graham and I have improved as musicians and songwriters. We're always expanding the limits of what the band can do... vocally, musically, and songwise.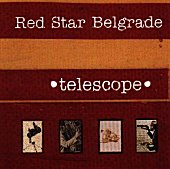 IMWT: Is TELESCOPE the best representation of the band at this moment?
Bill: I think so. I think this record really upped the ante in terms of what Red Star Belgrade can do. I think the next record will be a little more symphonic, with bigger arrangements.
IMWT: Did TELESCOPE come out the way you wanted it to?
Bill: For the most part. There's always things that you'd do differently; take out a verse, change a solo, etc. But it's definitely a record that we're proud of. The AMG guide just called it one of the greatest alt-country records ever made, which is nice to hear.
IMWT: Is there anything you rather enjoy or are really proud of about the new album? Maybe a certain sound or feeling that you've always admired on your favorite albums and were able to capture on your own?
Bill: I really like the melodica sound on the song "Telescope"; we really struggled with the arrangement of that song for a long time. I think the melodica is close to perfect. I also love the arrangement of the ebow on "After The Revolution."
IMWT: Anything that didn't sit well with you from the get go but due to time or money you couldn't fix? Maybe a certain mix, a guitar tone, a drum sound, etc?
Bill: Both "The Bottle and "Strum and Rhyme" could have used a different type of mix or arrangement but there was neither time nor money.
IMWT: Your songs are soaked in stories of different characters and their every day lives. From an alcoholic battling depression in "Dreaming Bout You" to the need to escape out of a bad situation like the refugee on "The Border", how are you able to put yourself in their shoes and capture their mindset in a song?
Bill: Unfortunately, some of it's autobiographical and not that much of a stretch.
I think the most important thing is being able to empathize with other people in other situations. If you can do that and be honest to the character or the subject, then you're in good shape as a songwriter.
IMWT: There is a lot of alienation and hopelessness in the band's past songs, and even some on the new album, yet the new album also has a dark, optimistic feel to it. What factor(s) do you contribute to this?
Bill: I'm not sure. A lot of people have said that Telescope is the only RSB record that doesn't make them want to hang themselves. When they say that I feel like I've failed them.
IMWT: Do you think Red Star Belgrade fits into any genre, like alt-country, or when approached with this question, do you feel labels keep the audience from realizing the band's full vision?
Bill: Unfortunately, we definitely don't fit into any genre. Some of our stuff is pop, some downright depressing, and the music is always changing.
Labels are definitely a nightmare for a band like us. Usually we get grouped into the alt-country crowd, which means that we end up playing with a lot of awful, jokey cowboy hat bands whose fans wouldn't get us in a million years. On the other hand, we don't go too well with the indie crowd.
When Graham and I started out in 95, we wanted to make unique, original music that was honest and had integrity. I think we've succeeded... so far.
The only thing we can do is to keep putting out music that we're proud of. We may never sell more than 10,000 records but at least we'll be able to look back and be proud of the music we've made.