Alice Dee Jay
Who Needs Guitars Anyway? (Violent/Republic/Universal)
By: Alex Steininger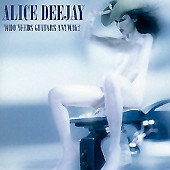 The aptly titled Who Needs Guitars Anyway? is the ultimate dance album for the summer of 2000. Classic pop elements spin while the drum beats dazzle and the stunning voices of Alice Dee Jay flutters in the air like a beautiful butterfly swimming in the sun.

"Back In My Life" is a sensuous dance track capable of making you hit the dance floor and enjoying the art form of making love to music (AKA dancing). The voices of Alice Dee Jay (Judy, Gaby, and Jane) quickly turns you on, making you want to make love and bounce around to the sonic grooves that live within in the music.

"The Lonely One" is rich and plentiful, while the title track makes good on its claim of "Who Needs Guitars Anyway?" by providing a dance-able backdrop complete with warm pop, enticing beats, and pleasantly aggressive waves of drum machines and manufactured beats.

If some good dance music is what you crave, than this is your album. One of the best dance albums of 2000, it isn't subtle; it gets in your face and makes you shake, shake, and shake some more. Sweat it up while having some fun. I'll give this album an A.