Stacey Earle
Dancin' With Them That Brung Me (Gearle Records)
By: Alex Steininger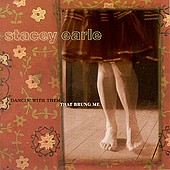 Toe-tappin', emotional country with plenty of feeling and love, Stacey Earle's songwriting ability only gets better with each passing album. A true gem in the country world, this gal can write some of the best, most heart-warming numbers you're likely to hear. And Dancin' With Them That Brung Me (despite its horrible title), is no exception.

Gentle, breezy country with back porch warmth and friendly, home again styling, Earle delivers a strong, captivating performance surely to find you sitting back, dreaming, thinking, and feeling every soft stroke of the guitar, every word that fills up the air, and every light rhythm that seizes you.

From the get go this album does nothing but fill you up with love, easing your soul, and taking you back to a time when you were the happiest in your life. A lasting memory that keeps a smile on your face, Stacey Earle's Dancin' With Them That Brung Me will soon become a favorite thought as you sit there and absorb the loveliness that is Earle's music. I'll give it an A+.