Spooks
Things I've Seen - music from the motion picture soundtrack Once In The Life (Artemis Records)
By: Alex Steininger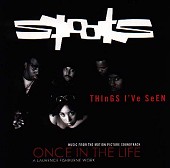 Smooth R&B drenched in hip-hop soul and punchy rap, Spooks deliver sparse beats and an eerie groove on top of dark shadows and rich vocals on "Things I've Seen (Aural Mix)" before fattening things up and socking you with a harder-edged R&B-Rap track with the "Crude Mix".

Roscoe's "Young Thugs" and Schoolly D's "Yes, Yes, Y'all" delivers streetwise rap with vibrancy and teeth, ready to bite into you if you don't bite first.

Mourning and optimism collide on the soundtrack, providing a deep pocket within which a movie script like Once In The Life can work in. The sad elements ooze with soul, and the rougher, edgier moments come alive with street savvy. I'll give it a C.