Old Time Relijun
La Sirena De Pecera (K Records)
By: Alex Steininger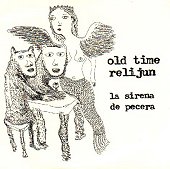 Old Time Relijun capture the essence of distraction and irritation on their latest, La Sirena De Pecera, a collection of horrible, unbearable noise-garage-rock pieces sure to make you want to cry for the day when anyone and everyone could pick up a guitar, bend a string or just strum a bunch of them, and make music.

Unpolished, loose, and highly unfiltered, the music suffers for a lack of direction, as well as creative focus or any realizable drive. Muddy, wild, and unsophisticated, the songs are one big jumbled piece that is strung together by a lot more noise. I'll give it an F.