Melvins
The Crybaby (Ipecac Recordings)
By: Alex Steininger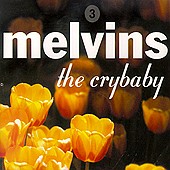 What does a band do after releasing 14 albums, 7 EP's, and 19 seven inch singles? Well, most of them would either break up before they got that far or start releasing pathetic attempts at recapturing their youth. However, if you're the Melvins, you get 70's teen idol Leif Garrett, Hank Williams III, Mike Patton from Faith No More, Tool, Skeleton Key, and several other guest stars to appear on your latest album. Then you deliver kick ass, hard knocking rock music and drop everyone on his or her ass. Enter the Melvins' latest, The Crybaby.

Leif Garrett leads the Melvins' rendition of Nirvana's "Smells Like Teen Spirit." Just as lively and passionate as the original (which is hard to do on a cover song), Garrett centers the rage and desperation he's felt throughout the years since his lapse in fame (come on, watch VH1's Behind The Music series) and comes through with a sparkling vocal performance as the Melvins drive the rock beat deep into your soul, just as Nirvana did the first time around.

The Jesus Lizard's David Yow leads the band through heavy metal and industrial screams on "Blockbuster," before Hank Williams III's "Ramblin' Man" sends you to the bar for a drink and a dance. Alcohol drenched, toe-tapping country, Williams III continues on with the legacy his grandfather started decades ago.

Mike Patton's "G.I. Joe" sends you on a deep, dark journey; Skeleton Key's "Spineless" knocks you along side the head with a heavily pumped-up, metal-coated rocker; and Tool's "Divorced", all fourteen plus minutes of it, will beat you senseless with their trademark brand of industrial strength metal.

Leave it up to the innovative Melvins to release an album with Leif Garrett, Jesus Lizard, Hank Williams III, and Tool on the same album. It's all rock 'n' roll, anyway. And, these boys do rock 'n' roll, with the help of some friends, like no other. Get ready to be astonished and stunned, because your time has come. I'll give it an A-.