Mary Timony
Mountains (Matador Records)
By: Alex Steininger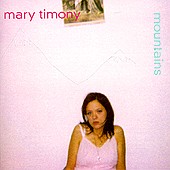 The piano dances around Mary Timony's voice on "Dungeon Dance," the opening track to the lead singer of Helium's debut solo album. An overcast pop song shadowed in the darkness of Timony's shattering voice, the moody number sets the tone for the pretty underneath feel of Mountains.

The light, jangly pop of "Fire Myself," complete with a scratchy, repetitive back beat and the trademark flow of the dancing piano finds Timony singing in a seductive, optimistic tone, while the quirky darkness of "Painted Horses" entangles you in a mysteriously sticky web of pop hooks and a delicate drum stomp.

The Tori-Amos-gone-indie-pop of "13 Bees" leaves you scratching your head while you try to decipher Timony's lyrics; the dance beat-laden indie-pop meets Arabic grooves of "The Golden Fruit" demonstrates Timony's ability to keep things mildly dark while still reeling you in with the hooks; and "Tiger Rising" gets you as everything centers around Timony's sharp electric guitar and her voice.

Mary Timony's debut solo album is not Helium, though the seeds that Helium planted are traceable and apparent in her solo work. An indie-pop detour through near-by and distant cultures and lifestyles, Timony delivers a wide spectrum of style and taste; I'll give it a B+.