Jimmy Page & The Black Crowes
Live at the Greek (MusicMaker.com)
By: Alex Steininger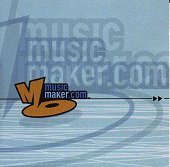 Ever thought, "Man, I wish track 5 was the opening track and six was the closer; it would make the album so much cooler?" Well, the day of personally customizing your CD and sequencing your own tracks - picking their order - is upon us.

Musicmaker.com's release of Jimmy Page & The Black Crowes' sold-out shows at the Greek Theatre in Los Angeles were captured on tape and are now available exclusively via musicmaker.com.

The CD will not be available in standard retail fashion (retail outlets); you'll have to pick the songs you want, out of nineteen songs, before musicmaker.com will send it to you. But, they are promoting it through the regular channels (print media and radio). Matter of fact, you might have already heard the Led Zeppelin classic "What Is And What Should Never Be" on your local classic rock or modern rock station.

The interesting this here is the promotional partnership between musicmaker.com and the radio stations. DJ's are encouraged to play the song (of course!) and mention that they can only buy it online via the radio station's own home page, which will be linked to musicmaker.com. And, each sale will result in both musicmaker.com and the radio station making some money.

As sneaky or cleaver as it is (depending on how you look at it), it is something we'll be seeing more of in the future, as technology advances, and internet music companies become as common as McDonalds.

What we have here, though, is over two hours of music and the ability to choose from an 18-song, 2-disc pre-packaged set with an 8-page booklet and full linear notes; or as many songs as you want from one to nineteen. You can also purchase and download songs straight to your computer, forgoing the CD and having the music instantly (after the download is finished, of course).

Playing vintage blues numbers with a bunch of newly recorded, classic Led Zeppelin songs, guitar legend Jimmy Page and rock 'n' rollers the Black Crowes deliver guitar heavy, steamy blues-rock with plenty of fury.

Led Zeppelin classics like the "Out On The Tiles/Whole Lotta Love (Medley)" and "Heartbreaker" never sounded so alive and potent. You can feel as the energy pushes Page to his best work in years; the same is true for The Black Crowes, who seem to be playing rock 'n' roll in a dream they haven't yet woken up from.

Songs available for selection include: "Heartbreaker," "In My Time Of Dying," "Custard Pie," "Celebration Day," "Nobody's Fault But Mine," "Ten Years Gone," "Sick Again," "Shake Your Money Maker," "Sloppy Drunk," and "Oh Well."

Delivering high quality, explosive blues and hard-edged rock, Jimmy Page and the Black Crowes, together, make classic rock come alive during their two-night stint in L.A.

And with the success of their short, six show tour, Page and the Crowes will be hitting the touring circuit this summer with The Who. Ah... does rock 'n' roll get any better than this?