Five Way Friday
Run Like This (Mile Marker Records)
By: Alex Steininger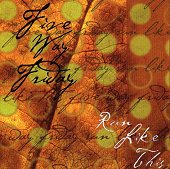 South Carolina's six-piece Five Way Friday delve into a crisp, pop-infused take on modern rock. Sweet organs share time with rocking guitars, while the rhythm section provides a nice, danceable groove for you to sail on.

"Falling Away" runs with a standard, all-too-common modern rock sound, while "Everyone" provides a jaunting, catchy pop beat to bounce around with while the lush organ swims in the background, giving the song a stronger, infectious grip.

"Does Anybody Care?" heads in two directions: lush pop and grinding rock. The organ enforces the pop mentality, while the guitars soar and buzz off into a rocking arrangement. The outcome is a hook-y, delightful groove rocker that makes you want to move and shake to the beat.

"Far Apart" sizzles with fast paced, dashing modern rock and "She's Alone" proves versatile with a soft, calm, but still pulsating, beat. And album closer "No Time For Lonely" serves up a windy, winding pop piece for you to chew on.

Though they fall into the generic spectrum quite often, leaning towards the wretched sound of Matchbox 20 rather than creating their own sound, when the band does find their mark, they hit it with power and drive, hooking you in and keeping you there. The disc is a roller coaster ride between high moments and grueling modern rock. But, when the highs hit, you'll be smiling. I'll give it a C-.