Big D and the Kids' Table
Good Luck (Asian Man Records)
By: Alex Steininger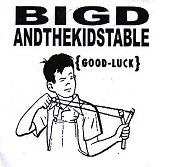 As a ten-piece, Big D and the Kids' Table are able to capture an energy level that few are able to reach. Their sophomore release, Good Luck, is a prime example of this. Sugar buzzin', hyper active-friendly, and an all out musical party, this ska-punk act has no problem making you move.

"Myself" charges forward with wild and no-holds-barred pop-punk, complete with a blistering horn section, and ample ska thrown in. "Kids Down" will make you break out in a cold sweat as you struggle to keep up with the ska-punk that makes the term hyperactive seem tame. "She Won't Ever Figure It Out" allows the punk a breather as they blast forward with some of the hottest, vigorous ska you're likely to ever hear. The hot-as-coals upbeat boils your feet as the steamy horns blister the skin. And then there is "Can't Be Caught," a rap-funk-ska-punker that, though slow to Big D standards, still will have your blood flowing and your feet spinning.

A lack of energy? Feeling tired or down? Whatever it is, Big D's manic grooves and musical sweatshop compositions will erase all fatigue and put a smile on your face in no time at all. Think of them as the music equivalent of Prozac. Prozac in a musical form, yeah... I'll give it a B.